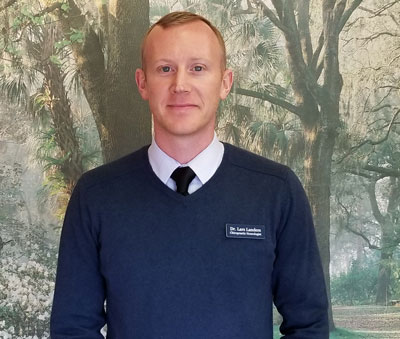 Dr. Landers personal mission is "to help patients reclaim as much of their lives as possible, while developing strategies for overcoming challenges associated with their injuries."
---
Dr. Lars Landers, D.C., DIBCN, DIBE: (Brain Center Contributor)
Dr. Lars Landers is a chiropractic neurologist who offers sustainable outcomes for a definitive range of neurologically based conditions.
He specializes in the diagnoses and treatment of:
concussion

traumatic brain injury

dizziness

vertigo

anxiety

depression

and more
Dr. Landers is a Chiropractic Physician and is board-certified in neurology and electrodiagnosis (nerve conduction velocity studies and electromyography). He employs multiple therapeutic modalities to integrate all parts of the nervous system conservatively, including:
Interactive Metronome

Transcranial Electrotherapy Stimulation

Oculomotor Exercises

Specialized Physical Exercises
As a chiropractic functional neurologist, Dr. Landers uses a conservative, non-invasive method to effectively treat many neurological disorders by challenging the brain to develop healthy, functional pathways of communication.
Healthy nervous tissue cells are constantly sending and receiving information, and any interruption to this process creates potentially life-altering dysfunction. Dr. Landers employs specific, concentrated protocols designed to challenge the brain to repair damaged cells, develop pathways around damaged areas, and in some cases, regenerate new cells entirely.
Dr. Landers is a graduate of Palmer Chiropractic College, and a member of the International Academy of Chiropractic Neurology. He is a US Army veteran (Captain, Engineer) with a passion for helping survivors of traumatic brain injury and concussion, as well as anxiety and other symptoms of PTSD.